Supplying our customers with the best fibre has been our goal for over 200 years, while assisting you with your considerations of sustainable development. We adopted a CSR policy several years ago and continue to initiate new projects with the participation of our teams.
WE ARE
ENVIRONMENTALLY FRIENDLY
Linen is a superb 100% ecological material with amazing qualities. Blessed by this splendid natural resource, we are particularly attentive to traceability and production.
We minimise waste. We produce long-lasting yarn and engage in clean energy: we are conscious of our contribution to preserve the planet for our children.
Many projects have been deployed in our factories to reduce energy consumption.
Changing the lighting system for LEDs, improving building insulation, optimising heating systems and water consumption, ensuring wastewater treatment, humidifying our workshops, improving dust evacuation for our teams' safety, installing energy recovery systems, preferring low-energy manufacturing processes…these are all projects initiated by our employees to work in a healthy environment and with respect for the environment and the product.
All the precious by-products created at each stage of the transformation process are re-used, such as the tows generated by hackling and scutching in dry spinning, and elsewhere, in other sectors where there are many opportunities such as with the insulation panels and paper mill.
No waste and good-quality linen. Even the dust generated by our internal evacuation system is transformed into briquettes for heating or used as a by-product for making paint.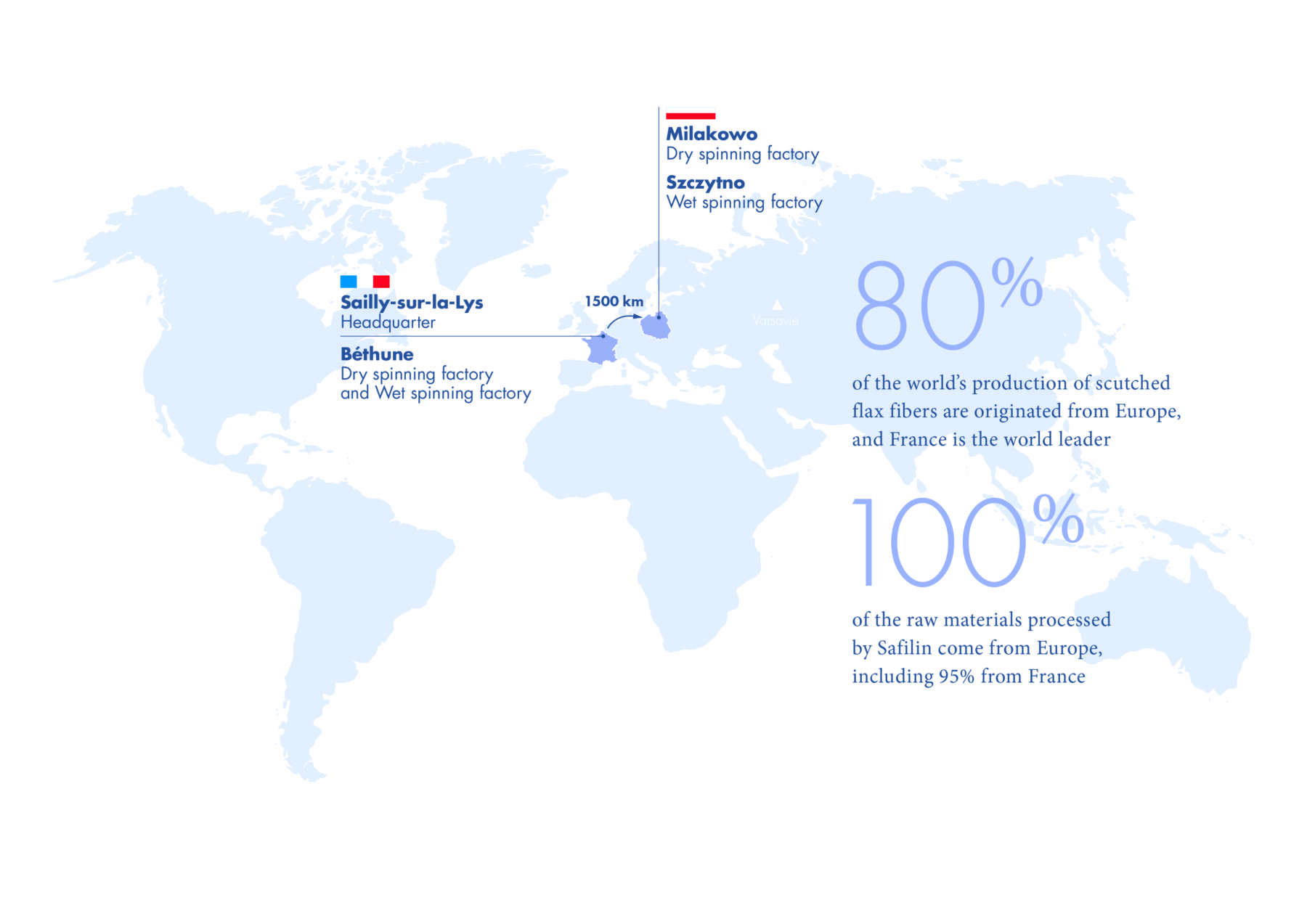 LOCATION & PRESERVATION
OF EUROPEAN KNOW-HOW
We established our two factories in Poland, a European country where linen has strong traditions. Why Poland? We wanted to be as close as possible to our factories so we could visit regularly and offer 100% European yarn. There are less than 1500 km between the fibres that we buy and our spinning factories, to guarantee good working conditions for our workers and benefit from a manageable transport distance.