From the seed to the yarn, Safilin never leaves the European borders. We have been guaranteeing 100% European linen yarn for more than 200 years. 
A local plant from the very first seed
 80% of the global production is of European origins, France being the global leader. In fact, the flax is grown in Western Europe along a wide strip of coastal land between the south of Normandy and Netherlands, passing by Belgium. 
Sown between end of February and end of March, the growth of the plant is closely controlled by farmers and weavers. We are talking about an eco-responsible plant as it does not need to be watered, and the quality of linen depends on the weather.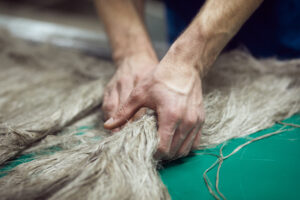 At Safilin, we blend flax fibres from different regions and different years to guarantee the optimum and constant quality.
To select our flax, we use a network of the most renowned cooperatives and private weaving factories in the French and European territories. Over the years, they have become a truly trusted partners.
Our experts select the raw materials batch by batch, guaranteeing the origin and strict traceability of our fibres. 
From the seed to the fibre, the Safilin linen is a European linen.
From the fibre to the yarn
 After selection, the batches are sent to Poland, to our 2 plants: Szczytno and Milakowo. 1,500 kilometres separate the Safilin's headquarters in Sailly-Sur-La-Lys and its 2 spinning factories. Our linen never goes outside the European borders.
 Certificates that guarantee linen of the European origin
 We are holders of the Masters of Linen and the European Flax certificates. These two labels verify the conformity of the European linen.
 Masters of Linen: the CELC (European Confederation of Flax and Hemp) European label, certifies that all the stages of seed to yarn processing are carried out in Europe.
 European Flax: the CELC (European Confederation of Flax and Hemp) European label, certifies the European origin and traceability of the Safilin linen yarn.