Linen yarn is a material that can be tailored to suit a great number of uses. However, like many others, when you think about linen, you probably think about lightweight summer clothes. It is true, linen is a perfect fabric for summer, but not only that! In clothing, linen yarn can be used all year long.
Linen is a plant-based fabric with a hollow fibre. It creates a thin insulating layer of air between the interior and the exterior, just as double glazing does. Linen is breathable in the summer and protects against cold during the winter. It is a fabric with heat-regulating properties.
Linen yarn in the summer 
It is the open structure of linen that gives it its breathable properties. It provides the feeling of freshness even in hot weather. The linen is permeable to air and allows its free circulation. And the circulating air is what cools you down. 
Besides its heat-regulating properties, the linen has also high water absorption capacity. In fact, linen can retain as much as 20% of its weight in water, without becoming damp to the touch. It is a fabric that keeps you dry even during intense heat. No more perspiration! Linen is a true ally as regards your summer clothes. Used for the warp and weft or knitted, the SAFILIN yarns offer the possibility to manufacture a multitude of different products for different uses: lightweight jersey T-shirts, shirts, jackets or light fleece clothing for cool summer evenings…
On top of these advantages, linen also dries quickly after machine washing! 

Linen yarn in the winter
As mentioned above, linen has heat-regulating properties. It is a fabric that can be also perfectly used during the autumn/winter season. Linen is a fiber having insulating properties, retaining the heat and protecting against the cold. In addition to this magical power, the SAFILIN yarn range can be fine-spun to adapt the fabric to more winter-like temperatures.
Linen seduces also in the winter due to its affinity with other fibers having the same characteristics: alpaca, cashmere, and wool. We are now working in partnership with NativaTM to create a linen/wool blend. These two materials are complementary and bring the best of the plant and the animal fibres. We chose NativaTM because we want to offer a completely traceable yarn.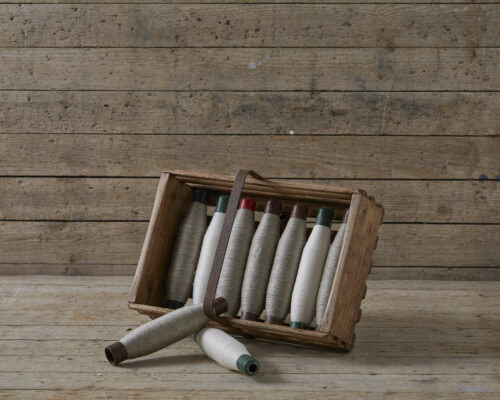 Linen yarn is an incredible fiber that can be adapted to various needs and brings comfort and cosiness regardless of the temperature or the season.