For more than 250 years, Safilin has mastered the art of working with linen, first in weaving and shortly afterwards in spinning. This allowed for control of the supply chain. 
Flax is the only plant material that can be fully processed in Europe, and since the opening of our French spinning mill in Béthune (62), we have been producing linen yarn also in France. 
Linen accounts for only 0.4% of the world production of textile fibres. However, 80% of its cultivation is realised in Europe in the coastal area stretching from Caen to Amsterdam and 60% of this is done in France. The cultivation of flax cannot be relocated because it depends on a specific climate and territory.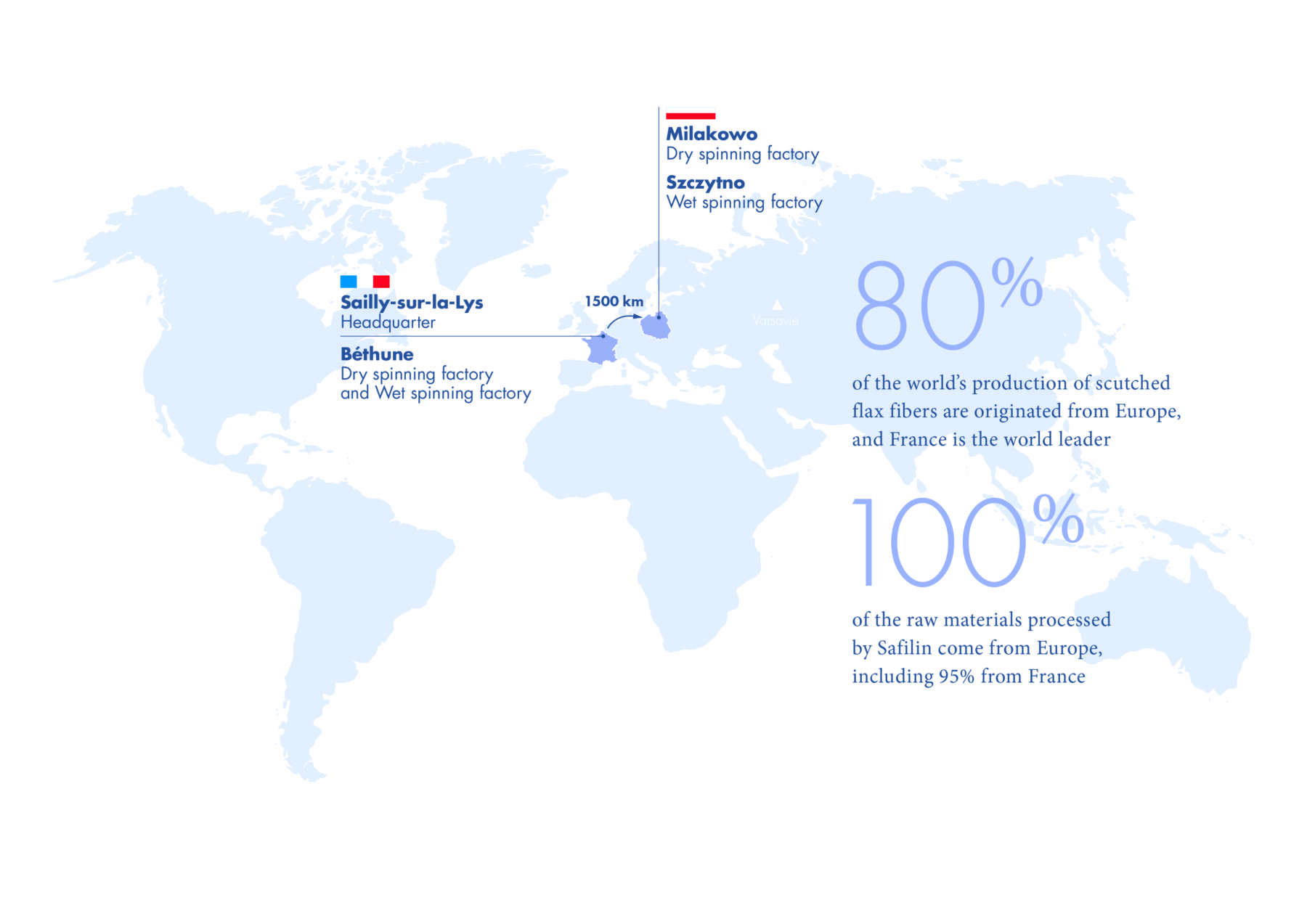 Our linen spinning mill in Poland
In the 1990s, due to fierce competition, Safilin decided to relocate its spinning mills to Poland. Poland was not chosen at random.
In fact, Eastern European countries cultivate a large amount of flax. Moreover, we wanted to stay close to our headquarters in France in order to offer a truly European product. 
The opening of a flax spinning unit in France
It is a willingness to be transparent but also to select local products on the part of consumers that led us to reopen a spinning facility in France, in Béthune, in the heart of flax culture and 30 km from our headquarters, the birthplace of our company. 
It seemed important to us, as experts in linen and spinning, to be able to offer consumers and brands a 100% French product, from seed to finished article. 
Importance of preserving our know-how
The European and French textile industry is recognised for the quality of its products and its textile and technical innovations. As a specialist in flax spinning, we are proud to be able to contribute to this recognition.
Europe and France have exceptional textile expertise and Safilin works with a network of partners and customers with a tremendous amount of know-how in the processing of linen yarn into finished products.
Growers, scutchers, spinners, dyers, knitters, weavers, finishers, garment makers… we all work together to offer our customers an exceptional product.