Flax is an extraordinary plant that has existed for thousands of years and that is important today in the context of environmental challenges. For many years, it has been used in different industries: clothing, furniture, linen composites… What you might not know is that the flax fibre and Safilin linen yarn can be found in many everyday products. 
Flax yarn advantages
One of the major advantages of flax yarn is its robustness. The fibre's nature and its length make it a sturdy material, perfect for textile manufacturing. It is not uncommon to find bedlinen dating back to several years or even centuries ago in perfect condition. Who hasn't found linen handkerchiefs or bedlinen in their grandparents' wardrobes…
Flax is an ecologically responsible plant by its very nature. With flax, nothing is lost… It supplies different industries… All elements of the plant can be used and, what is more, its cultivation does not require any artificial irrigation system. 
80% of linen cultures are located in the coastal zone stretching from Caen to Amsterdam. It's also on this strip of land that you can find the most beautiful linen. With 3 linen spinning factories, we are now able to offer a finished product that is 100% French or 100% European. 
Flax fibre in clothing industry 
Flax, in the form of linen yarn, is mainly used in the clothing and household linen industry. For many years, linen has been proving its worth as a textile offering optimum comfort: it dries quickly, cools in summer and warms in winter due to its thermoregulatory properties.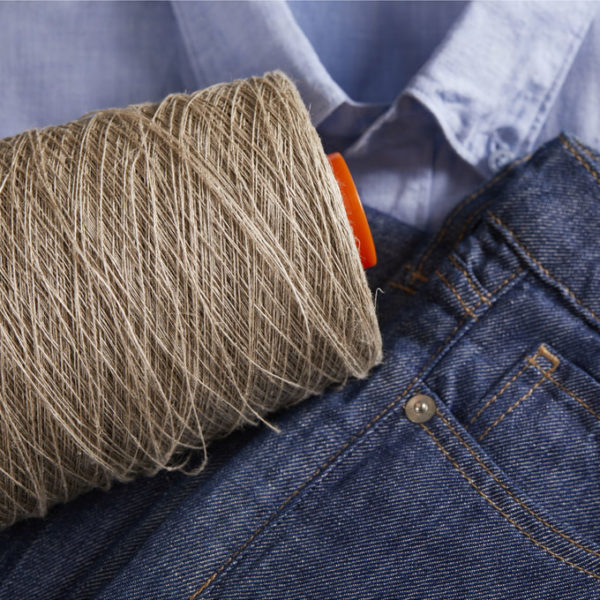 Flax fibre in furniture industry 
Sofa covers, cushions, curtains, chair seats… These are only a few examples of the most common furnishing textiles made from linen yarn. Furniture industry professionals choose Safilin linen yarn mainly because of its quality, colour uniformity and strength.  
Safilin linen yarn in composite manufacturing 
Linen yarn is also used in the design of technical textiles found in the composite industry. Having 15% to 30% better insulation properties than the most popular textiles, it has a strong position in the thermal insulation sector and can now easily replace glass fibre. 
At Safilin, we can deliver different rovings thanks to the Low Twist technology, which allows us to create a composite linen yarn with exceptional properties suitable for the different sectors in which it is used.