A carefully selected fibre blend
A solid network of partners
Safilin lies in a key geographical location. Based in the very heart of the flax basin, the company has been able to build a network of premium flax fibre suppliers and form long-term partnerships based on mutual trust with various French and European market players.
Material stock
To compensate for the vagaries of the harvest and constantly guarantee high quality to our customers, Safilin keeps a stock of raw materials that is enough for 12 months of production. This stock is made up of flax from various terroirs, harvested in different years. Safilin is the only spinning factory in the world to have a supply of raw materials deriving from different terroirs and harvest years.
Safilin yarn is composed of fibres from at least 24 batches harvested in different years and from many fields.
Olivier Guillaume, the CEO of Safilin, buys the raw materials himself. Each batch is cured with special attention and selected according to its usefulness and production needs: long fibres are exclusively reserved for wet spinning and tow for dry spinning. 
Batch traceability 
Materials are selected methodically and with precision and organised in batches. The strips are sorted according to different characteristics: rigidity, fineness, colour, year of harvest.
Traceability is essential to guarantee total transparency and assure quality and control during production.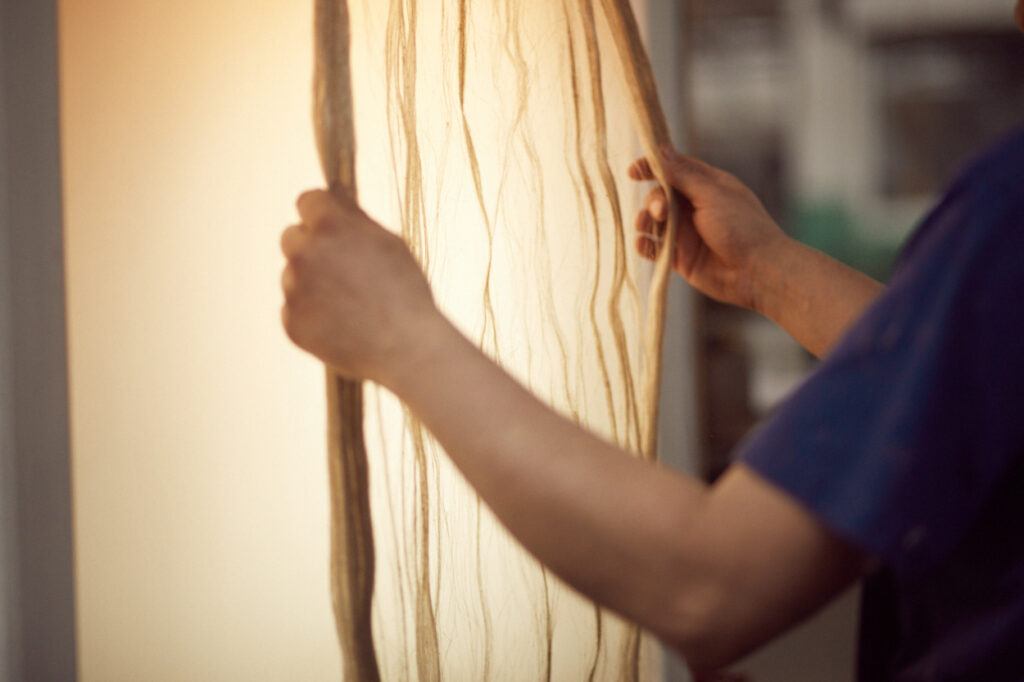 What are the advantages for Safilin yarn customers?
A wide range of products 
Our spinning factory offers a wide range of multi-purpose yarns. 
Safilin offers both wet-spun yarns, which are more common in the textile industry, and dry-spun yarns, which are used in furniture. Safilin also offers linen twine and open-end yarn.
Safilin is the only spinning factory globally to use three technologies of spinning: wet spinning, dry spinning and open-end spinning. 
A special knitting yarn has been developed and designed to be used on circular knitting machines. 
During the winding process, we make use of several available techniques to adapt the product to the customer's needs:  weaving cones, dye packaging, cardboard tubes, pelota, etc.
Fast shipping
Safilin is also able to quickly respond to customer demand thanks to its extensive product stocks. Having warehouses in two locations, one in Poland and another one in France, our spinning factory can be more reactive as far as the processing of orders for specific types of yarn is concerned. 
Well-being at work
Safilin owns Polish factories.  The company places respect for its employees at the top of the list of its priorities. Thus, we strictly obey the rules of the Polish Labour Code; we offer wages that are higher than the legal minimum in Poland, and we respect the laws that apply to working hours. 
Transparency and eco-responsibility
The yarns offered by Safilin are of European origin and are fully traceable, from start to finish.
They are also certified: 
OEKO TEX certification guarantees that the yarn is produced without the use of chemicals that may be harmful to humans
GOTS certification for organic yarn guarantees that the raw materials used for yarn production come from organic farms and that environmental aspects are taken into account in the manufacturing process
Safilin is also currently working on the environmental footprint of the yarns produced in our flax spinning factories to make the processing chain as planet-friendly as possible.