Safilin is a family business founded in 1778 and based in Sailly-sur-la-Lys (62).  Since 250 years, Safilin combines the spirit of craftsmanship with the power of industry.
French leader, we ensure a production of 100% European flax yarns certified Master of Linen through its two spinning mills in Poland, a dry spinning mill that produces thicker yarns with a more rustic appearance and a wet spinning mill that produces finer yarns.
French flax yarn in the textile industry
Following an increasing demand from brands and manufacturers for flax, locality,transparency and traceability throughout the supply chain, we relaunched a dry and wet spinning unit in France at Béthune (62) in the heart of the historical Safilin basin and flax culture.
With this new flax spinning unit, it is now possible to offer a 100% French finished product from fibre to clothing. This spinning unit complements our two Polish spinning mills and addresses new and complementary markets for Polish production.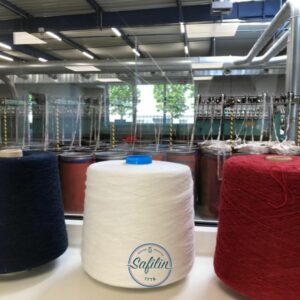 Safilin French linen yarn, transparency on traceability
Safilin's 450 French and Polish employees ensure the mastery of an age-old art, in technical and precise gestures. Each year, 4 500 tons, leave the spinning mills, from the spinning mills to a wide range of weavers and knitters throughout the world who and knitters around the world who are looking for a premium quality, durable linen yarn. Safilin controls every stage of the spinning process, from the selection of the flax to the yarn spool.
Wishing to be as transparent as possible with these clients and in an ongoing research and development process. We have developed an additional offer for the yarn, including the complete traceability of the yarn plant with a certificate and the environmental footprint resulting from the production of this yarn. We relied on the PEF (product environmental footprint) methodology, developed by the European Commission, which ensures a unit of data and calculations.