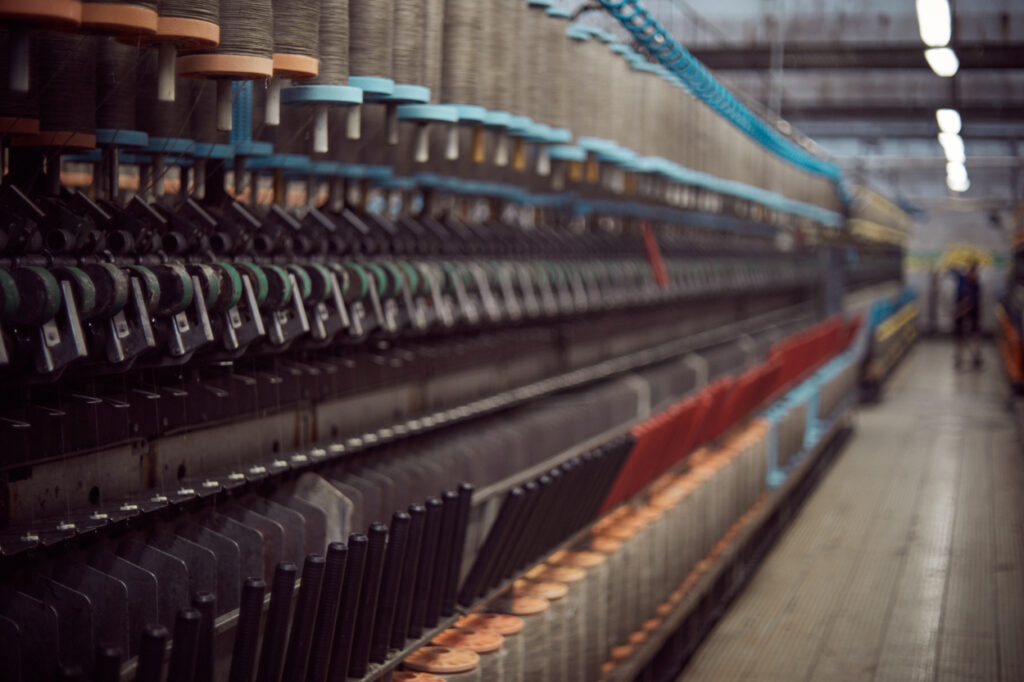 Polish factories, a key tool in the Safilin premium yarn transformation.
Originally established in France, the Safilin spinning factory decided in the nineties to move its activity to Poland, a country known for its know-how in linen production.
In order to ensure the premium quality of its yarn and preserve its know-how, Safilin sent its French foremen (volunteers) to accompany Polish teams in the setting up of factories and production takeover.
For years, the Safilin teams in Poland have been mastering the spinning techniques and upkeeping this art being a key element of European flax production.
Stages carried out in the factory in Poland
Safilin buys scutched linen from weavers. Safilin only buys the best European flax : 95% from France, 5% from Belgium and the Netherlands.
 Then, 3 spinning methods can be applied. 
Dry spinning

:

in this process, we generally use short fibres from combing or scutching flax tow. The first stage is carding, to untangle and aerate the fibres. The carded fibres are then combed using small combing machines and stretched to form slivers. Slivers, made of short fibres, will be used in the production of thicker and more rustic yarn. They are intended mainly for the furniture and decoration markets.
Wet spinning:

This process uses exclusively long fibres. They are combed in order to remove the remaining impurities and then they are laid parallel to form ribbons. The ribbons are then stretched and mixed in order to obtain fine and regular sliver. The then slivers are bleached (if necessary), spun and wound. Wet spinning gives finer yarn, intended mainly for the clothing industry.
Open-end spinning

: the fibres used are mainly very short ones. This method is used mainly to produce intimate blends
Every minute Safilin spins over 200 km of yarn
Return to the spinning origins
Today, many stakeholders and consumers want to return to a shorter cycle, to more local production. In fact, over 80% of European flax production is exported. In order to relocate the production, it is necessary to re-industrialise French textile raw materials production, including spinning.
All in order to satisfy the demand for 100% French yarn, from fibre to yarn.  Safilin decided to reopen a spinning unit in its historic stronghold, Béthune in the Hauts-de-France region. Having extensive expertise in the field, the company may count on its Polish teams to relay their know-how to French operators. This experience and competence sharing is a human adventure allowing Safilin to perpetuate its skills in the service of its customers.