Today, we wanted to post a special article on our blog
Following over two years of preparations, it's there… we are proud to announce that our project of opening a linen spinning factory in France has become a reality !  Our site in Béthune started spinning! With this article, we would like to thank all those who accompanied us on this wonderful adventure.
From now on, SAFILIN has 3 spinning factories working at full swing (Béthune, Szczytno, Miłakowo), 500 employees, and 200 km of linen yarn manufactured every minute. But most of all, SAFILIN has a history of men and women who have contributed to preservation of the demanding linen spinning know-how for more than 250 years.
History of the linen spinning factory in France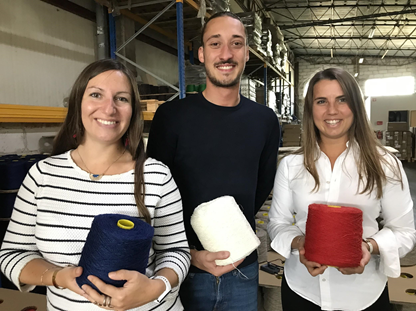 In 2006, the facility in Sailly-sur-la-Lys was the last spinning factory forced to close its doors on the French territory.
16 years later, on the initiative of our President, Olivier Guillaume, our collaborators returned to spinning in our historical cradle, the Hauts de France region, in the very heart of the flax growing culture.
Today, we are again able to manufacture a 100% French linen product, from seed to yarn.
With a yearly capacity of 380 tons, Safilin answers the demand for a more local and sustainable consumption. The offer of yarn spun in France corresponds to different uses of linen: NM26 for clothing and home textiles, NM6 and NM2.6 for soft furnishings and decoration.
State aid under the "France Relance" programme and financial subsidies from the Hauts-de-France region and Communauté de communes of Béthune-Bruay (community of communes) were the accelerators. We are thankful for their trust.
In the field, the employment centre in Béthune as well as the RH Imagreen human resources company assisted us in recruiting and training our French employees. Thank you for your help.
Unique know-how passed on 
This project would not be possible without the solidarity of our Polish employees who left their families for many months and came to France to assemble the machines and train their new French colleagues. 20 years later, the history repeats itself in the opposite direction, it has turned the full cycle. 
We would also like to extend our thanks to Francis and Michel, our former managers of Sailly-sur-la-Lys, both retired, for having come and lent us their helping hand in sharing their experience.
This return would not have been possible without the dynamics of the regional textile industry, which was able to preserve necessary fibre processing and yarn finishing tools. Many thanks also to our partners in combing, Terre de lin andPeignage Dumortier, bleaching, Decoster-Caulliez, and twisting, Textile du Grand Chemin, … who make it possible for us to offer exceptional 100% French linen. 
Thank you, our loyal clients: weavers, knitters, dyers, who support us in this venture and who have already ordered the French linen yarn.
Many thanks to all the brands willing to include natural products manufactured in short cycle in their products lines, as they understand their environmental footprint and want to preserve local jobs.
A new chapter is opening for SAFILIN and we want to mention all those who took part in it. Thank you for your commitment and your contribution to preservation of our French spinning factory.